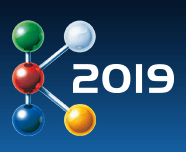 Hall 12, Stand No : A52-10
CHUDONG Machinery Co., Ltd.
High Degree Of Flexibility Will Comprehensively Meet The Client's Demands
CHUDONG Machinery Co., Ltd. is focused on the research, development and manufacture of pressure forming machinery. Providing more diverse and flexible Plastic Thermoforming Machine, Pressure Forming Machine, Thermoforming Tool and Thermoforming System to satisfy the quantitative and ever-changing demands of the market. CHUDONG Providing the most efficient and smartest way in plastic thermoforming, integrating automatic and smart technologies with pressure forming to develop equipment systems that meet client's need in Europe, Japan and other advanced countries.
Products : Thermoforming Machines for Films, Continuous Thermoforming Machine, Vertical Trimming Press, Lightweight, Intelligent, Thermoforming Machine, Thermoforming Machines for Sheets, Servo Cutting Machine, Automatic Feeding Precision Cutting Machine, Hydraulic Cutting Machine
---
---