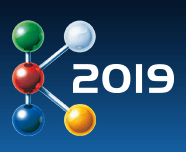 Hall 12, Stand No : B11
FU CHUN SHIN MACHINERY MANUFACTURE CO., LTD.
Shape A Better World
Fu Chun Shin Machinery Manufacture Co., Ltd. (FCS) was founded in 1974. The name came from a lathe factory which Mr. Po Hsun Wang, the Chairman co-founded with his brothers at Fu Chun Road, Tainan, Taiwan. In 1978, FCS was successfully transformed into plastic injection molding machine manufacturer. To pursue the better operational efficiency, in 2004, FCS received emerging stock approval from the Over-the-Counter Securities Exchange and becomes the only publicly traded professional injection molding machine manufacture in Taiwan.
Products : Single Injection Molding Machine, Multi Injection Molding Machine, Special Materials Injection Molding Machine, Preform Equipment Injection Molding Machine, Thermosetting Injection Molding Machine, Hi-Tech Intelligent Rubber Injection Molding Machine
---
---