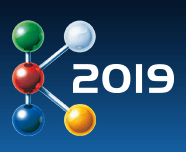 Hall 12, Stand No : F22
FONG KEE International Machinery Co., Ltd.
A specialist in the design and manufacture of wide variety of extrusion processing machinery
Fong Kee International Machinery Co., Ltd. (FKI) is the largest and finest machinery manufacturer in Taiwan Plastic Extrusion Industry. Established in 1953 by founder C.C Wei and spread its business to over 100 countries . FKI manufactures variety of plastic extrusion machinery, such as Blow Moulding, Blown Film, Cast Film, Sheet Making, Extrusion Lamination Machines and etc. All of FKI machines were qualified of ISO9001-2000 edition as well as CE certificate. FKI continues to be recognized by international corporations as trustworthy and innovative partner, and aiming to be one of top international plastic extrusion manufacture in the near future.
Products : Single Screw Extruders, Extrusion Lines for Blown Film, Extrusion Blow Moulding Machine, Extrusion Lines for Flat Film and Sheets, Sheet Making Machine, Extrusion lamination Machine, Cast Film Extrusion, Accumulator Head Blow Molding Machine, Multi-Layer Blow Moulding Machine
---
---